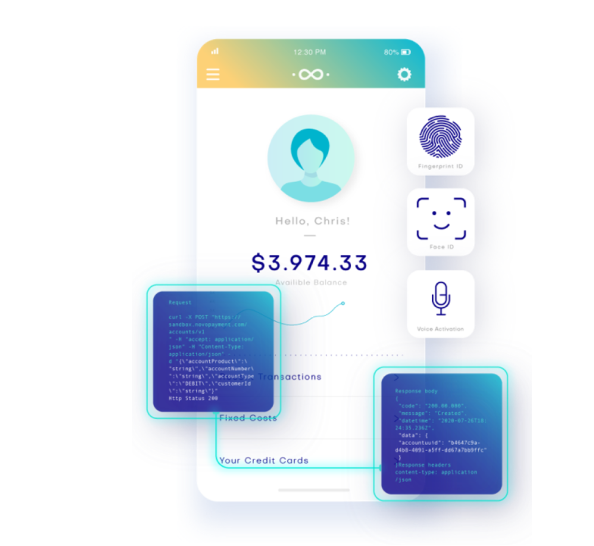 Our API-based Banking-as-a-Service platform allows you to build your customized digital banking product with exceptional flexibility and fast time to market.
NovoPayment's Digital Banking functionalities consist of modular banking components that, when integrated together, provide a comprehensive solution for the creation and operation of a digital bank. This versatile solution offers a multitude of advantages and opportunities for financial institutions and other organizations.
NovoPayment's Digital Banking functionalities cater to both retail and commercial clients. Retail customers gain access to a wide range of banking services, including the ability to open checking and/or savings accounts. They can conveniently transact using virtual or physical cards, enjoying the flexibility and convenience of digital payments.
Another benefit is the ability to digitize existing manual processes, enabling banks to streamline operations and enhance efficiency. By leveraging NovoPayment's Digital Banking functionalities, financial institutions can automate various tasks and workflows, reducing reliance on time-consuming and error-prone manual procedures.
This solution also empowers financial institutions to add new functionalities and expand their existing service offerings. By integrating NovoPayment's Digital Banking functionalities, financial institutions can introduce features such as online and mobile banking, digital payments, real-time transaction monitoring, and personalized customer experiences. This flexibility ensures that banks stay at the forefront of the rapidly evolving digital landscape and meet the changing needs of their customers.
NovoPayment's Digital Banking functionalities also provide robust support for card and lending activities. Banks can efficiently manage debit and credit card services, enabling customers to make seamless purchases, withdrawals, and transfers. Additionally, the solution facilitates streamlined lending processes, including loan origination, application processing, and loan portfolio management.
By leveraging Digital Banking through NovoPayment, financial institutions can expand their reach into new markets. The solution accommodates diverse regulatory requirements and adapts to local market conditions. This enables financial institutions to serve customers in different regions, facilitating geographic expansion and customer base growth.
For commercial clients, the solution offers specialized features tailored to their unique business needs. This may include corporate banking services, treasury management, bulk payments, and customized reporting tools.
Our API makes it straightforward to manage your retail and business customers' personal information throughout the entire customer lifecycle: from onboarding to long-term servicing. Additionally, our digital Know-Your-Customer (KYC) processes allow you to identify retail and business customers smoothly and competently.
Furthermore, NovoPayment's Digital Banking functionalities provide real-time information on all cash movements in your customers' accounts, ensuring transparency and empowering customers with up-to-date financial insights.